PRESS RELEASE
For Immediate Release
February 17, 2006

NASCAR 'S AARON FINKE LANDS THE FRONT ROW SPOT AT DAYTONA FOR CAY CLUBS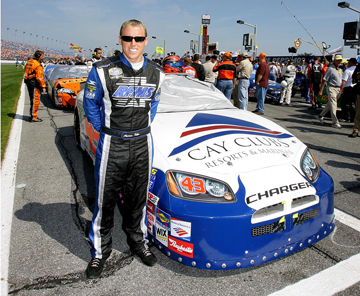 DAYTONA BEACH, FL. (Friday, Feb. 17, 2006) - Aaron Fike and the #43 Cay Clubs Resorts and Marinas Dodge of the Curb Agajanian Performance Group will start Saturday's Hershey's Kissables NASCAR Busch Series 300 from the front row after qualifying today at Daytona International Speedway. Fike, the 23-year-old out of Galesville, Ill., turned a fast qualifying lap of 49.198 seconds
(182.934 mph) around the 2.5-mile superspeedway tri-oval, good for second on the 43-car starting grid for tomorrow's 120-lap, 300-mile main event that kicks off the 2006 Busch series season.

"All of us on our team were thirlled with Aaron's placement for the race" said Cay Club's NASCAR team Brand Manager, Patxi Pastor. "Cay Clubs has sponsored a number of major events I've produced in the past and we're all obviously delighted with having our car perform as well as it did for our sponsor and the NASCAR fans."

Race time Saturday is 1 p.m. EST with live television coverage on the TNT cable network. AARON FIKE "That's a really good lap for us. With that Ray Evernham power, our Dodge is working well for us out there. I just want to thank (crew chief) Joe Shear and all the guys. They gave me a really stout Cay Clubs Dodge. Everyone's been working their tails off the last month and a half. They built six cars for me.
That Evernham power is going to be a big plus for the team this year. I want to thank Chris Passantino for putting this body on there. It's really a great body. It put us up there high on the speed charts. I'm looking forward to running all 35 races this year. I'm getting a lot more comfortable in these stock cars. I think we're going to be the surprise of the year as a team. We've got all the pieces in place, and we're working really hard to find the sponsorship we'll need to push us over the top. I'm confident a good showing here this weekend can help that effort."

Only J.J. Yeley's lap of 49.155 seconds (183.094 mph) was better among the 49 car-and-driver combinations that attempted to make the starting field today. Fike's previous best Busch series qualifying effort in 37 attempts was fourth last June at Nashville Superspeedway.