Musical Biography
Patxi Pastor
Patxi (pronounced PAH-chee) has had a passion for music throughout his life and he has continued to combine a successful career as an entrepreneur and one of the industry's leading entertainment marketers with producing and performing. His clients have included the world's leading brands and top celebrities. He is a musician whose intensity on stage and unique approach towards performing music have been a favorite with audiences for over three decades.

Patxi attributes many of his major musical influences to an eclectic group of artists such as Eric Clapton, Jerry Garcia, Bob Marley, Elton John, Neil Young, Albert Collins, Mark Knopfler, Joni Mitchell, Joan Armatrading, The Police, Peter Gabriel and The Talking Heads.


Yet, unlike most rock guitarists and front men, Patxi did not spring from the typical trappings of an American garage band. As a matter of fact, he began studying classical violin on a scholarship when he first came to this country from Spain when he was just five years old and his love for music has remained at the core of his life's experiences ever since.
Patxi was born with a passion for music. His parents believe it began when he was raised as a child in Seville Spain and routinely exposed to Flamenco. When he was four years old he began to learn to play music from his father who was a professional musician. Patxi is pictured above next to his father and sister Lucy at their home in Seville, Spain with his first guitar at age four.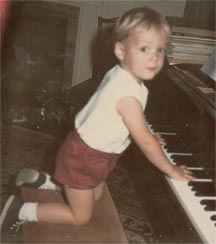 When he was five years old, a close family friend, who was a classical pianist, watched him as he proceeded to stand on the arms of his chair during a performance of the Hartford Symphony's "Nutcracker Ballet" and conduct the symphony along with the conductor to the delight of an audience of over five thousand people at the Bushnell Theater.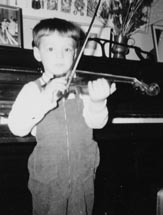 The friend was so moved by the incident that she became Patxi's sponsor and enrolled him in the prestigious Japanese Suzuki classical violin program for children. The next year, when he was only six years old, he gave his first live performance at a recital in the Hartford Conservatory.
At age twelve, he was invited to tour with the University of Ontario Canada Choir as well as join the Boys Choir of St. James Church in West Hartford, Connecticut. Patxi continued to be fascinated with music throughout his child hood and continued learn to play a number of other instruments including piano, drums, clarinet and finally the guitar which became his first love. He formed his first band in junior high school and began playing for private parties and school functions where he began to show heavy influences of blues, rock and roll, swing, reggae and R&B.
Despite the fact that he was under age, when he was only seventeen he began performing professionally on a regular basis at numerous night clubs in Hartford, Connecticut including Mad Murphy's, 36 Lewis Street, Carry Nations, Cell Block 11, Dagny's and Stage West. His bookings increasingly began to included a wide variety of large festivals, fraternity gigs, weddings, college sponsored events and private parties.
In the 1980's, Patxi began working closely with the Sony Corporation as an underwater cameraman and later became the Executive Producer and host of CBS Television affiliate WCAX-TV's top rated monthly underwater specials. During this time he developed digital sampling technologies to record and manipulate the vocalizations of dolphins and humpback whales which he later used in his compositions. As a result of this work, he was sponsored by the Roland Music Corporation and Ovation Instruments to develop the world's first digital guitar sampling system designed to record and reproduce and the signature whistles and vocalizations of whales and dolphins in the wild.
He continued his work leading several more expeditions to the Grand Bahamas Bank using an array of underwater hydrophones and speakers to incorporate these state-of-the-art digital sampling techniques for leading scientists to study wild spotted dolphins in the wild. The same technology was later used to record and perform the "Sea Dance" project which Patxi composed and engineered with Hart Music School keyboardist, Thomas Disher. His innovative talents as an accomplished musician continued to be used to enhance numerous soundtracks for many of his television programs, music videos and multimedia productions.

On the day of his 35th birthday, Patxi received a devastating call from his doctor that would forever change his life and his music. His doctor informed him that he had been diagnosed with cancer. The results of tests which were done to check a lump found on his Thyroid were conclusive. They were further complicated due to the fact that the tumor was located dangerously close to his vocal chords. Patxi's doctor knew he was a singer and due to the close proximity to his vocal chords had to caution him of the possibility that he may not be able to ever speak or sing normally ever again after the operation. Patxi made the decision to immediately have the surgery and remove the tumor.
The surgery went well and upon awakening from the anesthesia, Patxi was relieved to find that although he had a severely sore and extremely dry throat, he could in fact still talk. As he recovered and his throat began to heal, he was delighted to find that he could sing again. As a result of his experience with cancer and the many wonderful lessons the incident taught him about life, he decided to finish writing a song he was coincidentally composing when he was initially diagnosed entitled "Road To Life". The song describes the many blessings cancer helped him discover in his life and express his gratitude for the gift being able to continue his journey. The song later went on to became the title of his next CD.
For more about Patxi's professional career and entertainment marketing services Click Here.

---