PRESS RELEASE
For Immediate Release

CELEBRATION OF THE SEA TO ROCK KEY LARGO
All Day Music Festival Fundraiser To Feature
Steven Tyler, DMC, Chuck Berry and Sabrina Barnett along with a Bevy of Super Models Presenting Harley-Davidson Fashions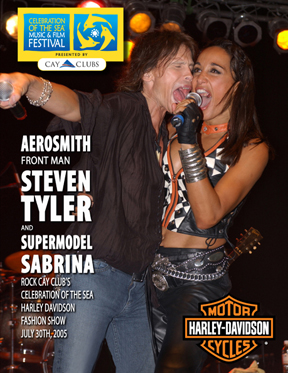 Rock stars, super models and Harley-Davidson ® motorcycles are all part of the mix for Celebration of the Sea - an all day music fundraiser supporting Celebration of the Sea Foundation, a non-profit organization dedicated to raising awareness of ocean habitats. The star-studded extravaganza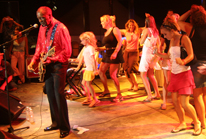 will take place on Saturday, July 30, from noon to 11:00 p.m. at Rowell's Marina, mile marker 104.5 on Key Largo . In this spectacular, laid back, ocean side setting, revelers will rock to headline performances including a special appearance by Aerosmith's Steven Tyler , rock n' roll legend Chuck Berry , and the talented DMC, formerly of Run DMC . In what is sure to be a show stopping entrance, Tyler will arrive via Harley with supermodel/singer/songwriter, Sabrina Barnett , and perform the pivotal hit " Walk this Way ", with DMC and Barnett, while surprise supermodel guests cavort on the fashion catwalk by the sea, modeling Harley-Davidson fashion apparel. Miami native Barnett will also perform material from her newly released debut album, " Come As You Are ."
Musical performances by Barry Goudreau and Fran Sheehan, original members of Boston, Gary Cherone former front man for Van Halen and Extreme , and Jeff "Skunk" Baxter of the Doobie Brothers and Steely Dan , in addition to scores of other prominent musicians will take place center stage throughout the day, while later on that evening, fireworks will light up the bay.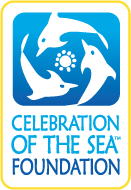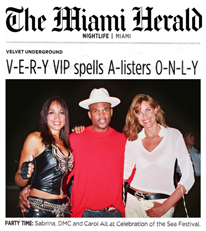 Things get underway Friday, July 29 , at 7:00 p.m . as the stars arrive early to support the Celebration of the Sea Foundation, participating in an underwater press conference, as well as attending and providing impromptu performances at a creative black tie fundraiser. The festivities will take place at Island Dolphin Care , a non-profit facility that provides dolphin therapy to children with critical illnesses, disabilities and special needs from all over the world.
Celebration of the Sea Foundation, a Florida based 501-C3 not-for-profit organization, is dedicated to producing educational programs designed to raise public awareness of aquatic and terrestrial ecosystems and the organisms that inhabit them, and the interactions between them; influencing the ways in which communities perceive them; and encouraging a new order of responsible human behavior towards them.
"We're delighted to be working with the Key Largo community to create this amazing signature event for the state of Florida" said Celebration of the Sea's creator and co-executive producer, Patxi Pastor . "With the help of our presenting sponsor Cay Clubs International, event partners, ACT Productions, Island Dolphin Care, the dive community, and our other generous sponsors, we are able to attract top musical acts, supermodels and other celebrities to make this a memorable world-class event that we plan to recreate annually."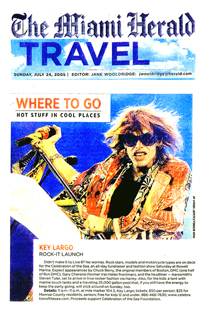 On Saturday, July 30 , the gates will open at 11:00 a.m. at the marina; where a festival atmosphere will prevail, with educational and fun activities including an "Ocean Discovery Tent" featuring touch tanks and family activities centering on marine animals and the eco-systems they inhabit. For hands-on types, the Giant Dive Pool , a traveling 41-foot by 21-foot, four-foot deep, 25,000 gallon facility will be provided by DEMA (The Dive Equipment Marketing Association), one of the event sponsors. Dressing rooms, towels, and all the necessary diving equipment will be on hand for those who want to sample free diving experiences, staffed with local professional diving instructors. DEMA will re-open the pool on Sunday, July 31 from 9:00 a.m. to 3:00 p.m. at the same location.
After a day and night filled with music and fashion, and the requisite food and drinks available at reasonable prices, the evening will conclude with a spectacular fireworks show over the bay, visible to thousands of expected attendees and boaters offshore.
Tickets for the all day concert at Rowell Marina , 11:00 a.m. - 11:00 p.m. at mile marker 104.5, Key Largo, Florida on Saturday, July 30, 2005, are $50 per person; $25 for Monroe County residents and senior citizens; and free for children 12 years of age and under. Concert tickets are available via TicketWeb toll free at 866-468-7630 or through Celebration of the Sea's website at celebrationofthesea.com, the Key Largo Chamber Of Commerce , 106000 Overseas Highway, Key Largo (MM 106) and both Key Largo locations of Captain Slate's Atlantis Dive Center as well as Worldwide Water Sports locations throughout Florida. Details on parking information for the concert will be posted online. Tickets for the celebrity charity fundraiser at Island Dolphin Care, Friday evening, July 29, 2005, are $1,000 per person.

Sponsors include Cay Clubs International, Key Largo Chamber of Commerce, Harley-Davidson Motor Company, Florida Keys Tourist Development Council, Island Dolphin Care, Scuba Radio, The Scuba Tour, DEMA (Diving Equipment Marketing Association), Mariner's Club Key Largo, World of Boating, NAUI Worldwide, PADI (Professional Association of Dive Instructors),Sheraton Beach Resort Key Largo, Y Ultralounge, World Water Sports and Comcast. Fore complete information please go to : www.celebrationofthesea.com
.