PRESS RELEASE
For Immediate Release
January 30, 1997
Desiree Gruber (212) 775-3500

PATXI ENTERTAINMENT NETWORK & VICTORIA'S SECRET ANNOUNCES
WORLD'S FIRST LIVE ONLINE FASHION SHOW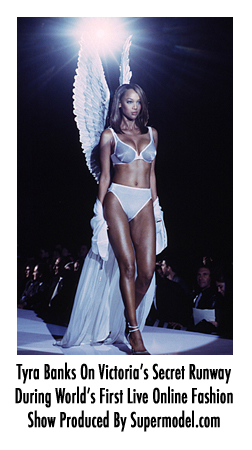 New York, NY - Patxi Entertainment Network's (P.E.N.) SUPERMODEL.COM leading fashion web site announced today that it has received the exclusive online rights to cybercast the world's first live fashion show for Victoria's Secret. The event will feature Victoria's Secret never before seen Spring collection and be cybercast live around the world from Donald Trump's renowned Plaza Hotel in New York City on February 4, 1997.
The event is being sponsored by NIKON Corporation and will utilize their new state of the art digital camera technology to enable the stunning runway images to be broadcast instantly around the world from the event.

The program will feature the world's top models including Tyra Banks, Claudia Schiffer, Naomi Campbell, Frederique van der Wal, Helena Christiansen and Stephanie Seymour who will all be exclusively featured on SUPERMODEL.COM located at http://www.supermodel.com. SUPERMODEL.COM's coverage will include a live feeds from cameras positioned through out the runway and include behind the scenes and backstage interviews with the models, designers and top Victoria's Secret executives. The live web cast will also include a special live performance by James Brown which will be hosted by MTV's Idalis. The event will also be simultaneously broadcast live on SONY's enormous Jumbotron which is positioned in the middle of New York City 's Time Square.

"We are delighted to be working in partnership with Victoria's Secret to continue pushing the boundaries of how the Internet can be leveraged to promote and build brands using entertainment content " said PEN's Founder and C.E.O. who conceived the idea, Patxi Pastor. "I'm sure you will begin to see a number of other leading entertainment companies follow this model and begin providing viewers with a growing variety of exciting content via the web over the coming years which will be sponsored by the industry's leading advertisers."

Located in Connecticut, PEN is one of the world leaders in celebrity-based Internet programming which provides custom publishing services, content, special event programming and merchandise fulfillment. PEN has designed, built and published over seventeen major online entertainment sites and been the recipient of over thirty of the industry's leading awards and commendations for design and production excellence. These sites include SUPERMODEL.COM, STARFILE.COM and SUPERSTARS.COM, which has hosted the official online fan clubs for some of the world's leading entertainers and recording artists, including Mariah Carey, Michael Bolton, Brooke Shields, Carly Simon, John Mellencamp, Lynyrd Skynyrd, The Cranberries and Andre Agassi. PEN additionally published and maintains a new official Internet site and online merchandise area for the rock band, The Grateful Dead at DEADTIES.COM.