PRESS RELEASE
For Immediate Release
NEW LINE TELEVISION, PATXI ENTERTAINMENT NETWORK AND SUPERMODEL FREDERIQUE INK TV DEAL
First Interactive Underwater Adventure Series Will Be Shot At
Exotic Locations Throughout The World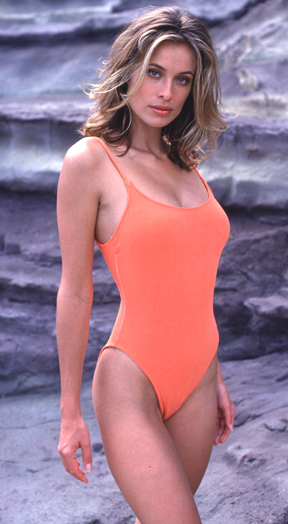 New York, June 23, 1998 - New Line Television and Patxi Entertainment Network, Inc. have entered into a first of its kind deal to develop an interactive adventure television series featuring supermodel Frederique van der Wal. Viewers will join Frederique and her crew as she leaves behind the stress of city life to explore some of the world's most breathtaking marine animals and environments.
Frederique, co-executive producer and host of the series, will travel to exotic locations around the world and take viewers on weekly wildlife adventures. Many of the sequences, featuring Frederique and her celebrity guests, will be shot underwater using the latest state-of-the-art technology. In addition, fans of the show will be able to visit the program's official website to learn more about the animals and locations she will encounter, and personally interact with Frederique and her crew. The site will also provide real-time chats with Frederique and her guests, live streaming video and utilize new satellite technology. Viewers will also be able to download above and below water Quicktime(TM) Virtual Reality files from each location in addition to an assortment of free digital sounds, games and activities .
"We're thrilled to be working with Frederique on this exciting series," said Chris Russo, Executive Vice President, Franchise Programming and Marketing at New Line Television. "Frederique is a household face, yet she lends an air of intrigue to any situation. This show will no doubt pique viewers varied interests in fashion, travel and outdoor adventures," he said. Patxi Pastor, President of Patxi Entertainment Network, Inc. and creator of the series is equally excited about the program. "The public's reaction to Frederique's record breaking Internet events has been a good indication of the kind of interest we believe the program's viewers will have in the show. This makes her a perfect choice to host the world's first interactive underwater adventure series and, based on their innovative outlook on everything they get involved in, we're delighted to have New Line Cinema as our partner to produce it."
A native of Holland, Frederique started modeling as a lark to raise money to go on a ski trip. A year later, Frederique won the prestigious Elite "Look of the Year" international contest, which landed her a professional contract with Elite Model Management. But instead of heading for runways and magazine covers right away, Frederique opted to finish her studies first, majoring in economics and languages. At the age of 18, Frederique moved to New York and was immediately embraced as one of the world's top supermodels. She has posed for virtually every major fashion magazine including Vogue, Harper's Bazaar, Glamour and Mademoiselle and has appeared nine times on the cover of Cosmopolitan magazine.
Frederique had an instrumental role in increasing Victoria Secret's visibility. Campaigns that helped take Frederique to the top of the modeling world include her work for Revlon, as one of the "Most Unforgettable Women in the World," Diet Coke, Guess? Jeans and MCI, to name a few.
Frederique's success as a model has translated into many successful independent business projects. She has launched her own line of lingerie and sleepwear sold at JC Penny's and QVC. She has a workout video, a calendar, a collection of bath products and "Frederique," a fragrance sold exclusively at H2O Plus boutiques nationwide. Frederique also successfully launched her own official website, FREDERIQUE.COM, through an exclusive partnership with Patxi Entertainment Network. This fall, Frederique can be seen in "Celebrity," Woody Allen's latest movie and she is currently shooting "Wild Wild West" with Will Smith and Kevin Kline due out next summer.
New Line Television is a division of New Line Cinema and is responsible for the distribution of New Line Cinema films to television, cable and pay-per-view markets; the production and distribution of original television programming; and the licensing and merchandising of all New Line properties. The company completed its merger with Turner Broadcasting Systems in 1994, and is now a Time Warner company.
Located in Connecticut, Patxi Entertainment Network is one of the world leaders in celebrity-based Internet marketing and promotions which provides services such as custom publishing, special event programming and merchandise fulfillment. PEN has designed, built and published over seventeen major online entertainment sites and been the recipient of over thirty of the industry's leading awards and commendations for design and production excellence. PEN has hosted the official online fan clubs for some of the world's leading entertainers and recording artists . PEN creates integrated sponsorship opportunities for leading advertisers by developing celebrity-based, multimedia programming.
For more information contact:
Sara Stern Levin
Manager, Marketing Communications
New Line Television
(212) 649-6153