PRESS RELEASE
For Immediate Release
February 2nd, 1998
PATXI ENTERTAINMENT NETWORK, INC. MARKS ANOTHER FIRST FOR
ENTERTAINMENT BASED INTERNET PROGRAMMING
Supermodel Frederique Launches Her New Domain and Contest With Her Own
Official Website On SUPERMODEL.COM
Patxi Entertainment Network, Inc. (PEN) announced today that it will be launching the official Internet site for Supermodel Frederique through a world wide cybercast on SUPERMODEL.COM (http://www.supermodel.com/) being hosted at the Fashion Café in New York City on Tuesday, February 10th. SUPERMODEL.COM is currently sponsoring a "Meet Frederique" contest on the site which will give one lucky winner two all access V.I.P passes to the event. The winner will personally have a chance to meet Frederique and have their picture taken with her, which she will personally autograph and post on her site within SUPERMODEL.COM.
SUPERMODEL.COM will be providing live coverage of the event through an exclusive world wide cybercast over the Internet. This coverage will include up to the minute reports, photos, digital audio interviews via RealAudio(TM) and Quicktime Virtual Reality movies. SUPERMODEL.COM will also be hosting live chats with Frederique in affiliation with People Magazine's Online Site on February 10th at 9:00 PM EST, and America Online's, The HUB on February 9th at 9:00 PM EST. Complete details about these chats and other information about the event will continually be posted and updated on SUPERMODEL.COM.
PEN produced the Internet's first live fashion show on SUPERMODEL.COM from the Trump Plaza in New York City through a unique partnership with Victoria's Secret. Since then, the company has continued to develop a variety of unique entertainment based programming and celebrity websites. It's advertisers, which have seen the value of its combined mark of over seventeen million requests each month, include AT&T, IBM, Microsoft, Yahoo, American Airlines, People Magazine, Sunny Delight, Moet Champagne, Vidal Sassoon, Clearasil, Cover Girl and Nikon.
The Company's founder and C.E.O., Patxi Pastor, said "The opening of Frederique's official site will mark the first of its kind on the Internet as one of the world's most popular Supermodels and personalities creates a comprehensive and officially authorized online presence for her fans on SUPERMODEL.COM. The challenge that many of our celebrities have is to create sites that they can be directly involved in creating and maintaining themselves. Many of today's leading celebrities are only beginning to realize the scope of the increasing unauthorized use of their name and likeness by thousands of fan created web sites. We develop unique partnerships with each of our celebrities to help them solve this problem by creating their own comprehensive marketing and promotional strategy for each of their websites".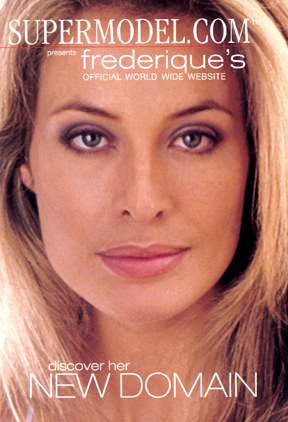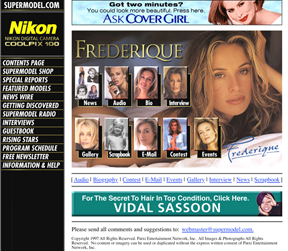 Frederique's official site will profile her stellar career in the world of beauty and fashion, chock-full of exclusive photos, interviews, QuickTime video clips, digital audio recordings and even Frederique in virtual reality. Frederique said, "My site on SUPERMODEL.COM will include constant updates on my modeling and acting projects and I'm going to be making all of my official merchandise available online." Frederique's many fans worldwide will now be able to keep up with the latest in her appearances and special ventures. Frederique will also give tips to aspiring models, telling them her secrets for getting to the top of the modeling world.
Frederique is best known as one of the leading models for Victoria's Secret but actually began her career by winning the prestigious Elite International "Look of the Year" contest, which immediately landed her a professional contract with Elite Model Management at the age of 17. Since then she has continually been featured on the covers of virtually every major fashion magazine including Vogue, Harpers Bazaar, Cosmopolitan, Fitness, Shape, Glamour and Mademoiselle. Her public appeal has made her one of the most branded models and sought after celebrity endorsements in the industry and resulted in a swimsuit calendar and poster along with a wide variety of Frederique branded lines including bath products, work out videos, a perfume fragrance, swimsuits and an exclusive line of lingerie and sleepwear in partnership with Jacques Moret which is currently being sold nationwide through J.C. Penney.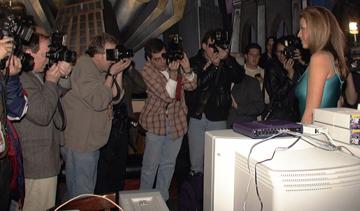 Frederique also continues to appear for major advertisers in product endorsements such as Diet Coke, Mastercard, Michelob, Pizza Hut, and Rolling Rock in addition to being featured on leading ad campaigns for brands such as Revlon's "Most Unforgettable Women in the World", "Guess Jeans" and is currently starring in MCI's "1- 800 Collect" campaign with Phil Hartman from Saturday Night Live. E! Television is continuing to air a one hour special about her career as part of the network's "Model" series and she is also appearing in "FX: The Series" as well as working on Woody Allen's upcoming film project.
Located in Connecticut, PEN is one of the world leaders in celebrity-based Internet programming which provides custom publishing services, content, special event programming and merchandise fulfillment. PEN has designed, built and published over seventeen major online entertainment sites and been the recipient of over thirty of the industr y's ies leading awards and commendations for design and production excellence. These sites include SUPERMODEL.COM, STARFILE.COM and SUPERSTARS.COM , the latter of which has hosted the official online fan clubs for some of the world's leading entertainers and recording artists, including including Mariah Carey, Michael Bolton, Brooke Shields, Carly Simon, John Mel l encamp, Lynyrd Skynyrd, The Cranberries and Andre Agas s i. PEN additionally published and maintains a new official Internet site and online merchandise area for the rock band, The Grateful Dead at DEADTIES.COM.