PRESS RELEASE
For Immediate Release
April 10, 2001

SUPERMODEL FREDERIQUE LEADS INTERNATIONAL EFFORT TO BREAK
WORLD RECORD FOR LARGEST GROUP DIVE
Details To Be Announced During Live Underwater Press Event May 18
At SeaWorld's Discovery Cove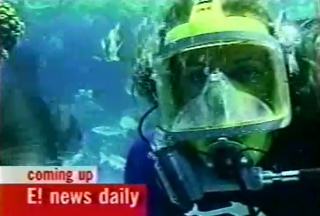 SAN DIEGO --- Supermodel Frederique van der Wal has been named the official ambassador for the 3rd Annual International Dive-In Day on May 20, 2001, an attempt to break the world record for the largest group dive. International Dive-In Day brings together the entire diving industry and divers worldwide. Frederique will lead this world record-breaking attempt and begin the historic dive at 11 a.m. E.S.T. from the beach at the Ocean Fest consumer dive show being held in Lauderdale-by-the-Sea, Florida. Thousands of other divers in hundreds of cities around the world will simultaneously enter their local oceans, rivers and lakes. In addition to diving, many of the Dive-In events being held throughout the world will include organized community clean-up efforts of the oceans and surrounding areas.
To announce the event's details, Frederique will host an underwater press event on May 18, 2001 at Discovery Cove in Orlando, FL. The press conference is being sponsored by Discovery Cove, The National Association of Underwater Instructors (NAUI) and Supermodel.com. There will be live underwater satellite interviews with Frederique in a colorful coral reef surrounded by giant stingrays, exotic fish and even sharks. Frederique will also be announcing her "Dive With a Supermodel" contest giving divers from around the world the opportunity to register on Supermodel.com to win the chance to be her personal SCUBA 'buddy' during the historic Dive-In. Frederique will be discussing the contest, her role at Dive-In, and her past experiences swimming with dolphins and marine animals at Discovery Cove. Live and recorded satellite feeds are available.
According to Regina Franklin, executive director of The Diving Equipment and Marketing Association (DEMA), "The diving industry has experienced great growth over the past few years. It's a true testament that scuba diving is now one of the hottest adventure sports for young men and women who crave the excitement of underwater exploration. Divers today are sexy, confident, smart and full of adventure."
International Dive-In Day is sponsored in part by the HammerHeads, an international network of divers, DEMA, OceanFest, Eastman Kodak and Sea & Sea Underwater Photography.
From braving frigid waters and exploring abandoned shipwrecks, to breaking scuba diving world records, the HammerHeads are the world's most enthusiastic diving organization. With chapters scattered in more than 100 cities all over the world, the HammerHeads get together for monthly group dives, underwater imaging seminars, theme parties and contests.
Frederique van der Wal, one of the most recognized faces in the modeling world, has taken the phenomenal success she enjoys in the worlds of fashion & beauty, and translated them into a diverse career--in fashion as well as acting and numerous entrepreneurial ventures.
Frederique has graced the cover of such top magazines as Vogue and Cosmopolitan and has been involved in prestigious campaigns for Revlon, Guess? and Victoria's Secret. She has also appeared in feature films including "Wild Wild West," and has worked with some of the industry's most interesting directors--Woody Allen ( Celebrity ), James Toback ( 2 Girls & A Guy ) and Wim Wenders.
Frederique's entrepreneurial ventures include her own line of lingerie, sleepwear & loungewear (sold nationwide and a top seller on QVC), a workout video, a signature fragrance sold in H20 Plus boutiques, a calendar and even her own popular internet site, Frederique.com, in conjunction with Supermodel.com.
Supermodel.com has conceived of and produced numerous ground breaking modeling events including the first live on-line fashion show with Victoria's Secret at The Trump Plaza Hotel and what at the time was the largest on-line event in Time Warner and Yahoo!'s history during the official launch of Frederique van der Wal's official web site. The Company has additionally produced over twenty major modeling events including live cybercasts in partnership with People Magazine, MTV, VH-1, Hard Rock Live, General Motors, Nikon and Kodak. The Company has sold millions of dollars of Internet programming, sponsorship and advertising, and offers comprehensive on and off line e-commerce services including a 24 hour toll free inbound call center.
Discovery Cove is Orlando's newest park, an interactive paradise where guests can swim and play with dolphins and snorkel among colorful coral reefs with rays and thousands of exotic fish.